Kitchen / Dining Area &nbspHaunani House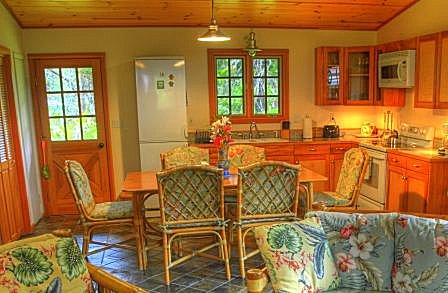 The Kitchen of Haunani House has an electric stove/oven with hood and microwave, a super-quiet Danish refrigerator, coffee maker, toaster, and ample pots and pans. Let us know if you want to borrow our rice cooker! The counter tops are granite, and the floor is Indian slate. The cabinets are made of Silver Oak, and are the work of deceased Volcano carpenter Jonathan Hubbard.
To the left of the refrigerator is Haunani House's back door, and to the left of that, just visible in the image, is a utility closet that houses a stacked washer/dryer unit for our guests' convenience.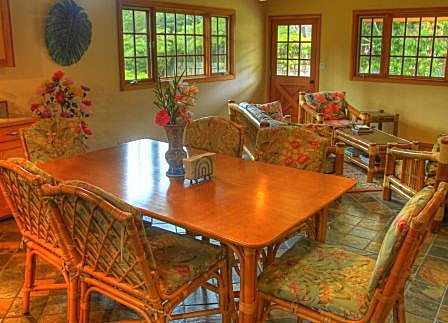 The dining area has a large table and six rattan chairs that comfortably seat the house's full capacity. Haunani House is equipped with dishware and silverware services for eight.

The wall displays a Monstera leaf by Big Island paper artist Terry Taube.


Haunani Main Page