The Japanese Bedroom &nbspHaunani House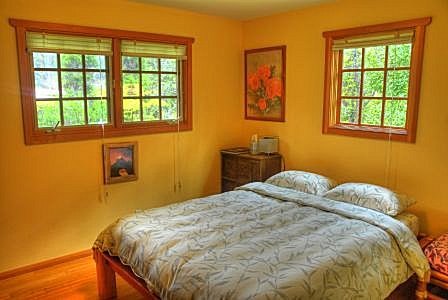 The Japanese bedroom has a queen-size tatami-style bed with a memory foam mattress. The bedding is bamboo print flannel over down comforter and pillows. There is a built-in closet with an antique Japanese reed door, and against one wall is a large antique tonsu with lots of space for clothes. The flooring is natural bamboo, and the shoji light fixture is the work of Volcano's own Bill McMahon of Willie's Woodworks. On the wall hangs a photograph by Volcano's premier lava photographer, G. Brad Lewis, in a mango frame by Bill McMahon.
The Japanese bedroom shares a large bathroom with the Old Oak bedroom.


Haunani Main Page