Living Area &nbspHaunani House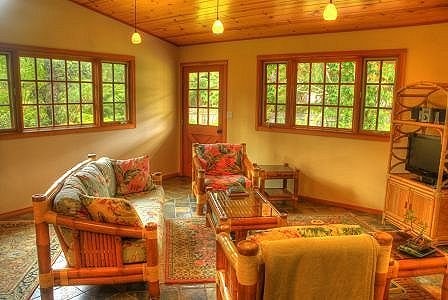 The livingroom of Haunani House has a peaked ceiling, and skylights covered by antique Chinese window grates. At night the skylights are backlit by dimmer lights. The floors are Indian slate, with Pakistani area carpets, and the furniture is bamboo, with cushions covered in colorful Hawaiian prints. There is a hardy little bonsai donated by Fuku-Bonsai, the Big Island's premier bonsai nursery, and the central work of art is a lithograph by renowned Hawaii painter Tabora.
There is an entertainment center housing cable flatscreen TV with built-in DVD player, and a small stereo featuring cable radio and CD player. A Jotul gas fireplace is centrally located in the living/dining area, to keep the house nice and warm on cold nights and mornings. The Douglas fir windows throughout the house are double-paned to insure that the atmosphere inside remains quiet and comfortable.
The extensive remodeling of Haunani House during the year 2000 was carried out by the former Volcano carpenter George Winiarski (who has relocated to Malaysia), and by our own Todd Marohnic.


Haunani Main Page