The Bathroom Io's Nest

Above are the inside and outside views of the bathroom, with the photo on the right showing the Bosch on-demand water heater of our dreams come true! The Bosch was not our first try for a solution to this problem, but we will certainly look no further.

Inside the bathroom, the custom koa vanity has a granite counter top, and the tub and shower area is lined in grey marble. And just to present us with an additional challenge, this 12-sided house came with an 8-sided window opening in the shower that we had to fill. Todd found a fit on eBay!

We never knew you could spend so much on bathroom fixtures until we encountered the Jado and Kohler brands, and once Jillian discovered them, she had to have them. We hope you appreciate that the toilet tank and base are a single molded piece of porcelain, because we paid extra for that!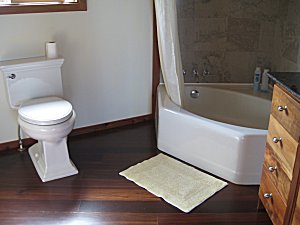 The bathroom is the only room in the house that is fully enclosed, ceiling as well, to give you complete privacy.




Io's Nest Main Page