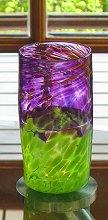 For dining, Io's Nest provides Scandinavian art glass dinnerware and Vance Kitira designer cutlery. The glassware is handblown by Volcano glass artists Misato and Michael Mortara of 2400 Fahrenheit.

The dining area sits between the kitchen (to the left) and the living area (to the right). Beyond the dining area are the sliding doors to the back porch. In the left foreground of the picture, you see the built-in bookshelf that houses books as well as a small music station for docking an iPod. Behind the bookshelf wall is the bathroom.

The floors throughout the house are Lara wood, purchased from an import store in Kona. The wood is so hard that you can't pound a nail through it, so each nail hole had to be pre-drilled. Todd is not happy with the floor, but Jillian says it's fine.