The Bedroom &nbsp The Maid's Quarters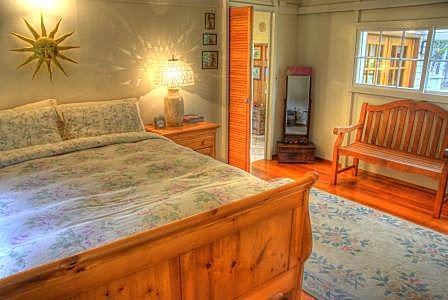 The bedroom is a bright, cheery place, with windows on three sides, looking out on gardens and semi-tropical growth. The furniture is light-colored pine and teak, and the floor is Douglas Fir. The bed is queen-sized, with a cozy down comforter. In a corner opposite the bed is a gas fireplace, to take the chill out of the mornings and evenings. A large cedar-lined closet stands ready with terrycloth bathrobes for you to wear out to the hottub.
Volcano is at 4000ft elevation, and in the winter months it can get quite cold. The nights can be in the 30's, and days in the 60's. During the summer, it is much warmer -- with nights running in the 60's and days in the low 80's. It often snows at the top of Mauna Kea and Mauna Loa mountains during the winter time -- and in 1972 it snowed in Volcano on Christmas Eve.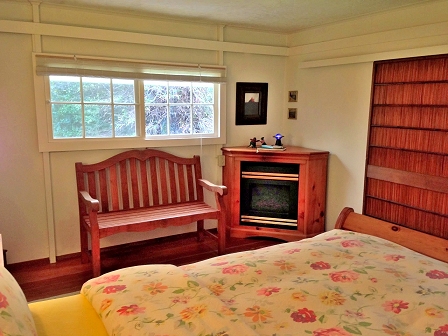 Maid's Quarters Main Page