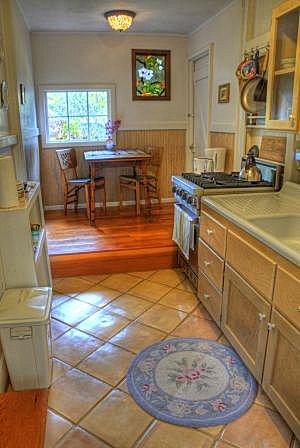 The kitchen is a tiny place, though fully equipped. It has a half-sized refrigerator, a microwave, a Viking professional gas stove/oven, toaster, and automatic coffee-maker. The kitchen floor is white-washed terra-cota tile, and the cabinets are hand-crafted by Volcano cabinet makers, built around the original 1930's porcelain sink. The dining room is one large step up onto the raised wood floor.
The dishware in The Maid's Quarters is handmade by the potter, Erik Wold, who has his studio on the grounds of his historic home, "Ohia Cottage", just up the road.
Ample coffee is supplied for the mornings, and the Ohia Cafe is a short walk from the cottage.
The laundry room, with full-sized washer and dryer, is accessible through a door off of the dining area. Guests are welcomed to use these as part of the amenities.