The Kitchen and Dining Area
Oma's Hapu'u Hideaway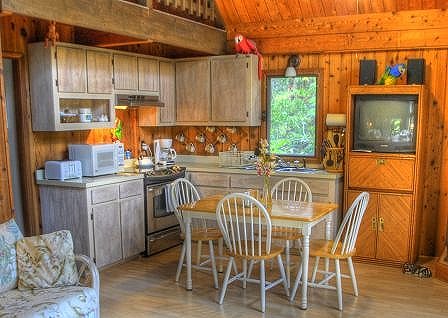 The kitchen is equipped with a ceramic-top electric stove/oven, full size refrigerator (not visible in this picture, but just to the left of the doorway, in the cavity under the stairs), microwave oven, toaster, and coffee maker. The cabinets are stocked with dishes, pots and pans, utensils and glasses. A couple of friendly parrots perch on the cabinet tops.

There is a supply of Hawaiian coffee on hand, and coffee shops and restaurants are a short walk down the lane.

The dining table normally seats four, but there are two tall stools in the children's room that can be added to the dining arrangement when the house is filled to its 4 adult/2 children capacity.

We are just across the lane, and ready to run over with the odd utensil, a high chair, or instructions on where to hike given the day's weather conditions.




Oma's Main Page